Tuesday, April 16th, 2013
---
6:59 pm
- And they called it "puppy love"...
Just heard the awesome news that my puppy, and its siblings, were born safe last night.

I've had a pretty rough time with my health lately - in the last week or so I've had every symptom I ever get, from pain to allergic reactions, from vomiting to dizziness, you name it! I'm being triggered by the demolition work opposite my house, so I know why it's happening and that it won't last much longer, but I was starting to feel awful and wonder if I'd made a mistake committing to a puppy - so much to do, and although I've proved that I CAN just carry on when I feel rotten, I was starting to get down and doubt myself, doubt everything.

Then I heard the news today. Since then I've been feeling like I'm going to burst! Can't stop grinning... singing... just ridiculously happy. It is simply amazing to know that our new family member is out there, and I just know everything will be ok and it was the right decision. Couldn't feel more right. Mike and I will soon be a threesome again.

Now I can let myself believe it will actually happen... and I had better get the house in order!
Wednesday, April 10th, 2013
---
6:52 pm
- Red Lion meet reminder
Just a reminder about the Red Lion meet on Saturday, from 1.30pm.

If you haven't already told me you're coming, please do, because I have given the pub an estimate of numbers but it would help me to know who I'm *actually* expecting :-)

We have the snug booked, which for those who don't know the pub is right at the back.

I look forward to seeing people!
Saturday, March 23rd, 2013
---
9:33 pm
- Labradoodle-oodle-oodle, you start off with a lab and then you add a poodle...*
For those who haven't heard the news via Twitter or Facebook, Mike and I are on the waiting list for a puppy!

We met the parents a couple of weeks ago - dad is a gorgeous Goldendoodle, and mum is a Labradoodle. So basically our puppy will probably be big, white and shaggy. :-) There are some pictures of us with the parents here. The breeder is wonderful, everything I could have wanted - I'm very lucky to have found her.

The litter is due in 4 weeks, which means we should be taking our pup home in about 12 weeks time.

We have decided on a name to follow on from Cray, and that's Commodore!

Before Commodore comes home, I'm working on three challenges:

Getting the house and garden cleared up - our cleaner left in November. I'm going to hire someone else, but until I find someone permanent, if anyone fancies some extra cash and is free during the week, and happy to do some cleaning or help me with some sorting, please send me a mail!


Getting my sleeping pattern sorted. I know I need about 12 hours sleep every night. Mike can feed and walk the dog before work, but I still need to shift my sleeping pattern because I currently wake at around midday. So I'm moving my alarm back by 10 minutes every week. I can always nap later on (when puppy naps!) If you see me on twitter overnight please tell me to get offline, even if I'm only tweeting because I can't sleep. I've asked Mike to kick my phone and tablet off the home network after 1am, too - that helps reinforce my wishes, when my self discipline is on the ropes!


Drinking less - I had a theory that I tend to feel more nauseous on days when I drank more alcohol the night before. Experiments have proved inconclusive, but I'm trying to cut down to a certain limit, when I'm at home for the evening anyway. It will do me good in the long run, but in the short term I expect to struggle a bit more with pain. Never mind, a puppy will distract me!

I've also been more active for the last month or so, proving to myself that even when I feel ill I can still manage to get up and go out (as if with a dog, and sometimes with my friend and his dog). I need to rest afterwards - always have, always will - but as long as Mike and I can take care of the dog's walks, I can keep him stimulated during the day with other things such as training sessions, and play sessions as well as using a feeder ball or playing "hunt the treat".

I still miss Cray very much (and we still haven't scattered his ashes...) but our family needs to be three again, and I'm looking forward to it. It's awesome to think that our new family member is slowly growing... very exciting. To think that little Commodore will hopefully still be with me when I'm 50 - well, that's wonderful. I love Mike to bits, but I feel that our household is only complete with a dog in it. Luckily Mike adored the parents and I know he's looking forward to our new family member too.


* In keeping with my usual habit of using song lyrics in the subject line, I discovered this song on YouTube. I can't decide if it's awful, or just plain abysmal, but I guess children might like it...
8:59 pm
- Red Lion meet
Date confirmed! The Red Lion meet will take place on Sat 13 April from 1.30pm.

I'll book a table, so please confirm below or let me know via other means. I'd like to book at least a week in advance, so please confirm by the end of March (it should be ok to add a few people later on if you're not sure yet).

We've just had dinner there and the menu has changed - there are now more veggie options, which is good. I took pictures of both the bar and restaurant menus and will add them to this post later today or tomorrow, so please check back.

Looking forward to showing people why I love the Lion!

****

EDIT TO ADD: PHOTOS OF NEW MENU

Here they are...

Bar menu
Restaurant menu
and for completeness, though I think it only applies to Sundays,
Host your own roast.

You can order from either the bar or the restaurant menu anywhere in the pub.

Apologies for the picture quality, I was using my phone in a busy and fairly dim pub.
Wednesday, March 20th, 2013
---
10:41 pm
- Red lion meet
Hi,

I've been rubbish at sorting this out, sorry!

It looks like being either 4 May or 13 April - I'd prefer 13 April, but I realise I haven't been quick to sort this out.

Are people still free and interested on 13 April? Please invite people you know I/we get along with (and let me know if they're coming, since I'd need to reserve space at the Red Lion).

I would suggest meeting from 1.30pm onward. For those who aren't local, it's about a minute or two's walk from Leytonstone tube station.

Is this still good for people? If you've all made other plans for that date, I'll have a rethink...

Thanks!
Sunday, March 3rd, 2013
---
10:35 pm
- April Red Lion beer meet and a poll
Hello! I am trying to organise a meet up at the Red Lion (E11) but I am not doing very well at it. So this is me trying to sort something out!

The idea is to show off the Lion to people who are not local and don't know why I love the pub on my doorstep. But of course local people are welcome as well!

I love the Red Lion, it is a rather popular community pub which caters for people who like real ale, good food, and friendly service.

So... when? Some people suggested Sunday afternoon. Unfortunately that's the worst time. They only serve roasts on Sundays - and those roasts are "ok" but nothing more. The place is heaving (mostly with families) so you have to book a table and it's all a bit of a squeeze. And from 5pm there is live music which can be too loud. So I think Sundays are the WORST day. By contrast I have visited on many days other than Sunday and really enjoyed the beer and food.

I think the best time is a Saturday afternoon. I would suggest a late lunch (meeting at 1/1.30 onward) and spending the afternoon there. I would book the "snug" area which caters for 10-16 people and does not have a speaker in it so we will be able to hear each other even if they do play music. Seats are a mixture of chairs and padded bench.

The bar menu: http://gorge.org/images/misc/2013/bar%20menu.jpg
The restaurant menu: http://gorge.org/images/misc/2013/restaurant%20menu.jpg

They have 10 handpull pumps (usually all 10 are on, but in the last week only 6 have been on) and 5 keg taps, as well as a good range of bottles, and spirits (they have Hendricks gin which indicates to me that they have spirits of a decent standard). They have won CAMRA awards for best East London pub, are in Good Beer Guide etc.

The pub is step free (tho the doorbell doesn't always work so you might need to phone them to get in, grrr!) and there is an accessible toilet.

If you are furry you will get a bowl of water and a barrel of biscuits, and if you are small you will get a high chair (although people do expect small people to be taken out if they cry/scream).

Please leave a comment if you would like to come on a Saturday afternoon, how many of you, and I will announce asap when the meet is taking place!

Poll #1899938
Open to: All, detailed results viewable to: All, participants: 7


Which Saturdays in April could you attend at the Red Lion?

View Answers

13 April
5 (29.4%)
20 April
3 (17.6%)
27 April
4 (23.5%)
4 May
5 (29.4%)



(Kake, please announce this to your friends. In fact, if anyone reading would like to announce this to their friends, that would be welcome (within reason) if you know our friends overlap, if youre not sure just contact me here or via flash@gorge.org to make sure we can fit everyone in.)
Sunday, February 17th, 2013
---
1:38 pm
- Come up and see me, make me smiiiiiile....
Hello, LJ readers! I havent forgotten you, but I do seem to spend all my time on twitter instead of here or facebook etc. Twitter fits better with lying in bed feeling ill or brainless, I can manage short bursts of thoughts rather than long posts. Although Ive had some good debates there too. And it is good for moral support, as lots of my spoony friends are laid up when I am, or similarly failing to sleep, etc. so we keep each other company. Come and find me there? When I do have something longer to say, it goes on flashsays.com - ah, but I digress.

I actually came here to share some Sunday smiles.

This morning I saw this pic on twitter and it amused me:
http://pbs.twimg.com/media/BDTDpdeCMAAW-dw.jpg
(a certain programme was filming earlier this morning)

A day or two ago I saw this video on twitter, which also made me smile:
http://www.youtube.com/watch?v=KIePsbJSS04
(french cats playing pattycake)

Anyway, Im still here. Still reading my friends' journals. And still missing my doggy a lot.
Monday, December 31st, 2012
---
8:09 pm
- Don't look back in anger...
I'm not going to post a full "review of the year" meme, but here are some thoughts.

It has been a very hard year for me. My health has been terrible. I haven't seen my mother and brother all year, and I've only left London a few times (once to Cambridge, in Spring, and then to see my in-laws in Surrey a few times). I really need a holiday, but I can't say how my health will be on any given day until I get to it, so I've been learning to take things one day at a time. I've spent a lot of the year in bed, but at least my view has changed as the pub across the road from my house has been demolished. I can now see across to the High Road and watch buses going past, which I like. Eventually flats will be built on the site, but there's no timescale for that yet.

2012 was also the year that my beloved dog Cray died. I'm still very sad about that, although I have largely got over the emptiness of the house. If I was well, we could get another dog, but right now when I'm in bed so much and unable to walk one let alone play, train, and so on, it is impossible. So I'm hoping for my health to improve in 2013, and hopefully get well enough to the point where we can get another dog.

What else has happened this year? Art wise, I had my Manholes exhibition in Slate, and currently I'm exhibiting with Mike (and others) in the Stone Space. We are doing a talk on Saturday afternoon, if anyone's interested! The show ends on Sunday. However, there have been some changes behind the scenes at the gallery, and as a result I have resigned as an organiser of the gallery (about an hour ago!) Of course I'll remain interested in the gallery and supportive of it. And now I need to find somewhere else to volunteer so that I have a reason to get up, when I am well enough.

I've only been to a couple of gigs this year - Frank Turner / Billy Bragg / Dan le Sac vs Scroobius Pip in April, and Tom Williams and the Boat at Victoria Park over summer. In 2013 I'd like to see more live music. However I also spent a day at the Olympics and one at the Paralympics, both were excellent days out, really enjoyable, and it was great to have this global showcase practically on my doorstep.

I suppose if I've learnt one thing in 2012, it is who my friends are. With my ill health I havent been able to go out and meet people in town like I used to, relying instead on them to come to Leytonstone or Stratford, even if that's a long journey for them. And knowing that I may have to cancel at the last minute. Some wonderful people have come to my end of town and I've really enjoyed their company (thank you, you know who you are - one of you even came to stay!) However, I've also been let down by the odd person that I thought would stick by me. Nothing I can do about that.

It goes without saying that Mike has been wonderful - kind, supportive, helpful, uncomplaining. I wish I could do more for him in return, and that I was well enough for a holiday as I think he deserves one. But anyway, I don't know how I'd have made it through the year without Mike's help and I am incredibly lucky - and grateful. He is the one constant that makes my life worthwhile.

So it has been a year of ups and downs - mainly downs. It won't take much for 2013 to be better. I hope by this time next year, that my health will be more reliable and I will be happier as a result.

Happy New Year everybody, wishing you all the best for 2013.
Tuesday, December 25th, 2012
---
11:07 pm
- Merry Christmas
Just to wish everyone a merry christmas.

For those who have had sadness and challenges this year, may 2013 be happy and hopeful.

Ive had a tough year, with bad health; subsequently no holiday and no chance to visit my family. Im hoping for better next year.
Friday, October 5th, 2012
---
5:05 pm
- Con te partirò
Cray Bristow (né Majopa Owl)
2 April 2000 - 4 October 2012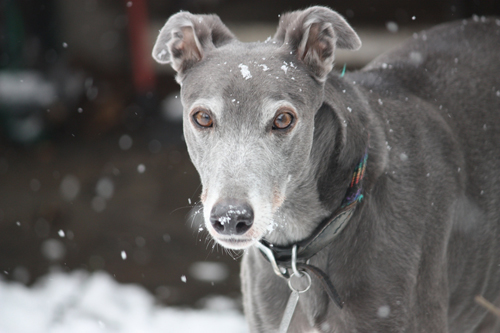 Goodbye to a much loved companion. He was a member of our family for 8 and a half years, and is missed.
Friday, September 28th, 2012
---
10:35 pm
- There is a green hill far away...
I'm doing something rather out of character... asking for sponsorship... to help a church make music!

St Andrew's Leytonstone, a local art & crafts church, have an elderly organ - a Lewis organ, for the musos among you - which requires £25k of repairs to the bellows, or there may be no organ music by Christmas.

Their organist is a friend of mine, and she has organised a Hymnathon, in which every hymn from the New English Hymnal will be sung, from 12pm on Fri 12 Oct to 7pm the following day. More info: http://www.standrewsleytonstone.org/events/hymnathon/

I plan to show my support by singing for 3 hours on Friday afternoon / evening, and Id be very grateful if you would sponsor me to do so.

Here is my Just Giving page. If you are kind enough to support me, and you have a favourite hymn, do tell me which. The one which raises most money will be sung as the finale on Saturday.

If you have any questions just ask, or catch me on twitter @techiebabe where you may also interrogate @hymnathon.

Thanks in advance for any support. I am also to be found clutching paper forms, if we meet in person before the event!
Sunday, September 9th, 2012
---
12:17 am
- I've been living so long with my pictures of you, that I almost feel the pictures are all I can feel
Tomorrow (Sunday 9 Sept) I am thinking of having a meet outside my new art exhibition (in Church Lane, below the library) then after a quick look, beer in the Red Lion. Meet in Church Lane outside my exhibition at 330pm.

If you are interested and intending to attend please let me know! Twitter is best (@techiebabe )

I would love to see people! I will not be awake til 1pm for the grand prix, so wont acknowledge you sooner but if ppl are coming, so will I!

Hoping ppl get in touch at 1.30etc or thereafter so I know to come along and meet ppl at 3.30!

T'would be great to meet ppl and have an excuse for beer!

Do let me know by twitter @techiebabe or phone so I know to come. Calls ok but texts are more welcome!

Note, if nobody indicates they will come by email or twitter, I wont be there... but Im still not far away if you want to call me at any point :-)

CANCELLED as I'm not feeling well today :-(
Thursday, August 23rd, 2012
---
6:45 pm
- You know it's going to get harder and harder, as you get older...
Cray spent the day at the vets, and now Mike and I have a difficult decision to make. Not as bad as the decision we will ultimately have to make, but difficult nonetheless.

Advice and perspectives welcome if you can help me / us decide. This is a public post so Mike may read it too.

The vet was expecting to do an aspiration of Cray's lump under light sedation. I was expecting him to do a biopsy under a general, but anyway...

He was unable to do an aspiration as the lump is so bony and so Cray would need to go back for a biopsy and chest x-ray under a general, if we want to know what we are dealing with. The x-ray would show if the lump has grown inside him (i.e. beyond what's visible externally) and if there are other growths, and a biopsy would tell us what kind of cancer it is - whether it's an aggressive type, or not, etc.

The thing is, would we take any action if we had that information to hand? The lump can't be removed easily (attached to his ribs) and we aren't going to be driving him to Cambridge for radiotherapy. Cray is 12 so he's old for a greyhound, even though he is quite fit for his age. So we would only be looking at palliatively treating issues as they arise (with pain relief or whatever may be necessary) in any case. I think Mike and I are agreed on that.

For me, I would like to know how long I've got with Cray and what to expect - e.g. if any internal organs are affected, and the speed of growth from here on.

But for Cray, is it fair to put him through a general anaesthetic and a biopsy, if it won't affect how we treat him? (We could do just the x-ray but it still requires a general.)

If I knew how long we'd got, would we do anything differently? I suppose I might wear myself out trying to walk Cray now if I knew I soon wouldn't be able to, rather than waiting until I feel well enough to walk him without making myself exhausted.

But what if he didn't survive the anaesthetic, how would I feel then?

Every time I think I've come to a decision, it doesn't then sit comfortably with me: there's still a "oh, but hang on..." niggle pulling the other way in my mind.

Obviously Mike and I have to make a decision together, but it would help if I knew what *I* thought, for a start. This is important enough that I don't want Mike just saying ok to whatever I want, too, so we have to both make decisions and hope we agree!

It's a difficult one. Can anyone help with a different perspective?
Monday, August 20th, 2012
---
9:01 pm
- Run fast for your children, for your sisters and your brothers
On Saturday I found a lump on Cray. It's on his ribs. This picture really shows the lump, as he was stretching in a way which made it particularly visible: https://twitter.com/techiebabe/status/236961986284515328/photo/1/large

I was surprised by the size because it seemed to have popped up overnight; I know Cray's body quite well and this was new and odd.

We went to the vet's that afternoon. She thought (as did I) that because it's hard, and not causing him any pain, it's probably cancer. Besides, I've felt bone cancer on a greyhound before, and this seemed similar to me.

On Thursday Cray will have a biopsy done to see what we are dealing with. I'm trying not to worry about the risk of sedation on a 12 year old greyhound.

Recently, we had also noticed some small changes in Cray. He's a bit more ansty / barky / won't settle as readily, he doesn't like eating a big bowl of food any more (but still loves and even steals food - he just eats it in two goes), and he is panting a lot. I put most of it down to hot weather, but now I wonder if he has a growth pressing on his stomach, or in his lungs, or...

I will wait and see what we are dealing with, but it's hard to stay calm. I've stopped googling because it suggested 2-4 months life expectancy, and I have realised that I don't like knowing facts after all. No Doggy At Christmas is an almost unbearable thought. I've stopped looking at the lump because it seems bigger every time I look, and I'm sure that's my imagination. I am starting to realise how much I love my doggy.

Advice, happy stories, etc. welcome please.
Monday, August 13th, 2012
---
6:30 pm
- Who wants their teeth done by the Marquis de Sade?
The dentist has a sign: knock and wait. It feels like sitting outside the Head Teacher's office. Same pit-of-your-stomach scared anticipation, wondering when the door will open. Half willing it to open and get things over with, half willing it to stay closed.

It is also uncomfortably hot in there. Even when it was raining outside, the dentist's was 29C. On a really hot day they ring to see if I want to reschedule, they know I don't cope with heat. They don't realise that their usual temperature is too hot for comfort. I told them that the Olympic aquatics centre is maintained at 29C which I found uncomfortable, but it's for the comfort of the divers in those ickle shorts. Cue the dentist's assistant giggling about wearing speedos to work. At least I made them laugh.

After all the build up and anticipation, I wasn't able to have the filling I was expecting. The previous patient had bitten a chunk out of the dentist's thumb, and she was still bleeding, and unable to work in my mouth as a result. Next appointment: 2 Oct. I have six weeks to calm down, then to get nervous again...
Tuesday, July 10th, 2012
---
4:01 pm
- I'll show you something that'll make you change your mind
Come and hear some music! I'm performing in a free concert at Walthamstow Assembly Hall next week. There are two concerts, on Tuesday 17 and Wednesday 18, both at 730pm, which showcase music making in Waltham Forest. I'm in the one on Tuesday.

Lots of groups will be performing for 10 minutes each, so if one item is not your style, the next one might be!

I should be on stage four times:
- in London Forest Choir with Henry Maynard Infant School - includes a Zulu lullaby
- in London Forest Choir - includes Zadoc The Priest, and a lovely arrangement of the song I've referenced in the title
- with Vision Voices - singing opera
- with Waltham Forest Voices - singing Indian music*

There will be seven other groups performing, so it should be a really enjoyable evening featuring a wide range of music.

Do come! Doors at 7pm, free entry (programme £3), fully accessible. Should be fun, and I do love to see familiar faces in the audience.


* If you fancy taking part in the Indian music performance, there is a workshop at the Mela on Sunday where we will learn it, including a performance at the Mela itself. Anyone welcome, you don't need to be able to read music.
Monday, July 2nd, 2012
---
11:14 pm
- Dog food is a current craze, eat some every day
Cray at vet hospital: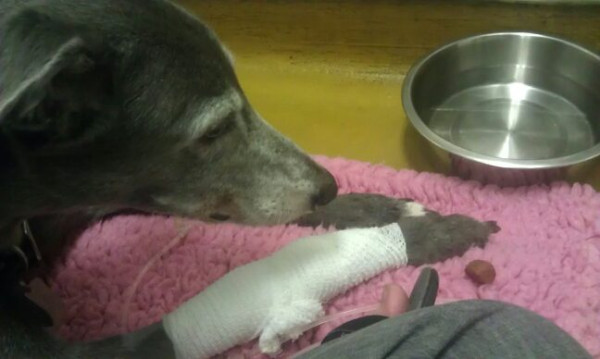 I spent nearly an hour in his kennel with him today. He seemed to be fairly relaxed - the photo shows him waiting to take the treat, and he did other tricks like touch noses, lie down, get back, take it gently, etc. which he wouldn't have done if he was stressed. He kept offering me his paw with a drip in it, awwww! It is lovely that the vet hospital allow you to visit.

His first set of bloods showed low red blood cells (and a few other things) but the results have improved while he's been in.

If he continues to do well he should be allowed home tomorrow afternoon. Hooray! For the house is quiet, and I miss him.
Sunday, July 1st, 2012
---
6:22 am
- It's been a bad day, please don't take a picture
This weekend Mike and I both changed our routines. And that set in motion a bit of a disaster.

TL;DR - Cray is currently in vet hospital :-(

This will probably be muddled as I'm very tired, but I want to brain dump before I give in and go to sleep.

Here's what happened...



(

Backstory...Collapse

)




(

At the Animal Hospital...Collapse

)



So here I am, home alone, the first time in a decade that I've spent the night at home without Mike, but now I don't have my dog for company either.

I'll probably post updates to twitter so please check there if you are interested. Good wishes welcome here or on twitter.

[e2a: I'll ring the vet for an update between 12-2pm at some point.]

And now I'm going to try and sleep. I've been awake for 16 hours and I'm exhausted and ill.

It's a gorgeous morning, though.
Thursday, June 14th, 2012
---
11:53 pm
- fitter, happier, more productive
The above title isnt quite true but it's the only lyric I can recall that might fit. Anyway...

Today I got my gastro appointment with Prof A. Actually he was off sick so I was seen by a member of his team, 90 minutes late. That's 90 minutes more sleep I could have had... I wish that if hospitals know they are running late, they would call you...

Still, it was a very productive appointment. After taking my history, looking at my list of meds that I take (despite writing a list I still forgot some...) and hearing about the really horrid nausea which seems to go with the chronic fatigue, I had the following outcomes:

1. In addition to my current antiemtics, I can take ondansatron. My rheumy had said no to this as it is for short term use, but apparently it is ok for long term use. I agreed only to take it when necessary, which seems obvious to me!

2. Despite not being able to take PPIs (they make me vomit) I can instead take ranitidine. I take this for acid reflux anyway, but apparently I can take it every day rather than just as needed. The great news about this is that I can then take ibuprofen or naproxen every day too, without worrying that it will give me an ulcer. Ibufen and naproxen really help my joint pain, so I am very pleased about this.

3. They will recommend a chronic fatigue specialist, for my GP to refer me. Hooray! I have been asking my GP for a referral to a chronic fatigue clinic but didnt know which one to try, and my GP is lovely but prefers to 'watch and wait'. Hopefully this will be another step in the right direction. About time too, as vit D3 and co-enzyme q10 dont seem to do anything, and I need something else to try; I still seem to be getting worse and want to nip that progression in the bud.

So it involved a stupidly early wake up (for me), a 90 minute wait, lots of expensive minicabs and black cabs, and was in my least favourite Outpatients building (cabs never stop on the right side of the building, theres a long slope, lots of heavy doors and then a barrier stopped me getting to the recption desk!) But the appointment was worthwhile. Even better, I met Mike afterwards for lunch from a lovely falafel stall, and some sunshine. I love London, even if I cant enjoy it very often.
Thursday, May 17th, 2012
---
1:27 am
- Day of blogging as a disabled person
Hi. I have decided that next Wednesday 23 May I will tweet and audioboo a day in my life, whether it's a good day & I can walk the dog, or a bad day & I'm in bed. I will share everything. Please tell people to follow me @techiebabe on twitter for that day. No matter what happens I will commit to updating people via tweets and audioboo (short audio clips) to let you know the reality of my life as a disabled person. I've picked that date at random, it has no significance and I have no idea how I will be on the day. Please spread the word and follow me. If it goes well, I will try to mobilise the disabled community to do the same on a future fixed date, but for now it's just me!

If you're disabled and would like to show support pls promote my day of tweeting to your friends and followers, and let me know via flash@gorge.org that you'd like to join me in a future day of disabled tweets. But for now, please just follow me and tell people! Thanks!

PS Any idea for which hashtag to use? how about #disabledlife - what do you think?
---